High Seas
27/36

Author: BmblBee
Rating: Adult for language and sexual content
Paring: S/X
Disclaimer: The Bee owns none of the characters or products named
in this story, however the plot and words are her own.
Warning: Violence (nongraphic) and strong M/M sexual content.

Summary: OCD Spike is back! It has been a year since Xander and
Spike met in Rough Diamond and they have been living and working
together ever since. As an anniversary present, Xander takes a reluctant
Spike on a gay ocean cruise and everything, including murder, goes with
them.

Appreciation to: Petxnd for her wonderful banner and patient preread
and to Silk_ Labyrinth for her beta. Any remaining boo-boos are the
result of the Bee's stubbornness.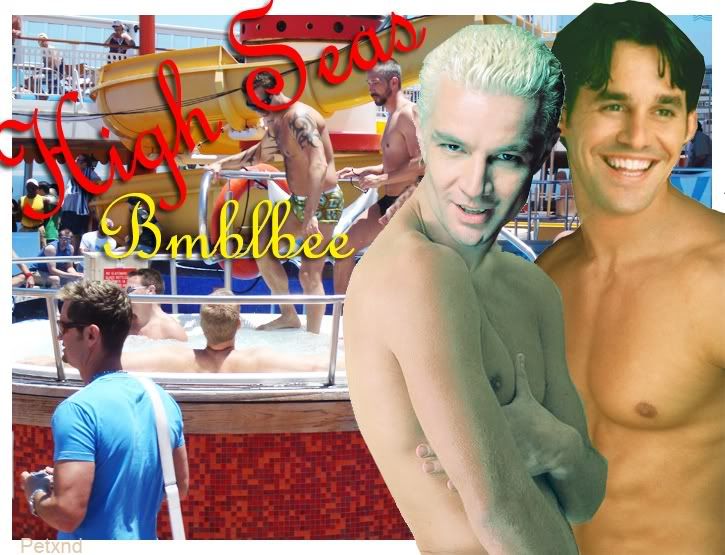 Thanks to Petxnd for the wonderful banner and the faithful friendship.


Kevin jumped up and dashed across the room at the sound of the key card
being swiped in the lock. When the door opened and Mickey stepped in,
Kevin threw himself into the older man's arms.

"I'm so glad you're back. You have been gone for hours. Is it all over?
Is everything all right?"

Mickey gently pried the clingy boy from him and he steered him towards the
bed where they both sat down. With his fingertips on Kevin's chin, he lifted
the young face and took a good look at the swollen, purple eye.

"No, things are not all right. The search is still going on. I slipped away to come
and check on you. They aren't saying a lot but I get the impression that no one
expects to find Teddy alive and well on the ship. I overheard the captain talking
about a lot of blood and I think the point of the search is to decide if Teddy was
the one who died or if it was someone else."

Kevin jumped to his feet and began pacing the floor in short bursts of hurry, then
stop. On his third pass, he suddenly spun around and turned to the quiet man on
the bed.

"There's something else isn't there? Something you haven't told me?"

Mickey leaned forward and rested his palms on his thighs.

"It turns out that Spike and Xander are in the cabin next door to Teddy, and Spike
heard him arguing last night. He can pinpoint the time by the sounds of an
altercation and he heard someone leaving the room."

Kevin froze on the spot. His hands clamped over his mouth and all Mickey could
see of his face were two huge bugged eyes. He hated to do it but time was short
and if he didn't get back, the crew would add him to the list of MIA, so Mickey
gave him the rest of the bad news.

"That's not all. I heard they are interrogating Juan this morning."

Kevin collapsed. He crumpled to the floor before Mickey could catch him and
he lay there sobbing.


Spike stood back away from the table and the murderer who sat there. There
was no doubt in his mind that this evil, despicable creature had caused the death
of poor Teddy. It all added up. Spike had seen the man's heartless betrayal in the
sorrow of Teddy's eyes, as well as the scene by the poolside. He was aware
of the fact that Juan was violent. He had heard the altercations himself and seen
the evidence in the bloody dressing from Teddy's arm.

And the victim himself had told Spike of Juan's threat. The very words, "I will
toss you overboard and no one will ever find your body." Juan couldn't have
imagined that Teddy would have the chance to point the finger from his watery
grave, but he had. Still, he had to agree with Xander. If they were to get Juan to
confess, Spike was not the one to do it. He was too angry, too confrontational.
So the lead detective stood silent as his assistant stepped in.

"How long have you known Teddy?"

Juan sat with his hands tightly clasped between his nervously bouncing knees. His
usual bravado and sexual aura were gone and he seemed to physically shrink in
the chair.

"About six months. I met him in a coffee house down by the city college. I go
there sometimes in the afternoons cause them college boys always got a lot
of money sent from home and they don't mind spending it on...well, you know."

Xander nodded. He knew well.

"What about the wedding? Teddy said you two were set to get married before
you dumped him. He said this cruise was to be your honeymoon trip."

Juan's legs stopped bouncing as his face screwed into a contortion of confusion.

"Married? What the hell are you talking about? Do I look like the marrying type?
Look, you got the wrong idea. Teddy was a customer. That's all. He hired me
a couple times. The first time was to break him in. He never took real meat
up the ass before and he wanted someone to do him. So I did. The next time
was a week after that and when I showed up at his place, he had music on and
he bought me a gift. A silver bracelet with both our names on it. I thought it was
a joke and I laughed. I fucked him and I left."

Xander jotted down notes as Juan spoke. In the corner, Spike remained where
he was but now the expression on his face was blank as he weighed the information
and tried to decide how to label it in his brain. Xander nodded at Juan and continued.

"Did he hire you again after that?"

Juan shook his head. His brow-line wrinkled as he remembered.

"No. He got weird after that. He started following me around. Watching me. I
asked him once or twice if he wanted fucked but he said no so I just tried to ignore
him. Then when it started to cost me money I got pissed off. He would call people,
men, usually married men, after they hired me and he would threaten to tell their
wives. When I found out, I went to him and I admit, I roughed him up a little."

Spike took in the information and lined it up with what Teddy had told him. He
wondered if that was the night Teddy said Juan had been drinking and forced his
way in. As much as he hated to admit when he was wrong, Spike was starting
to have doubts.

"What about this cruise? Isn't it a hell of a coincidence that you two are both
on this cruise together?"

Juan shrugged.

"Who knows? During the last month, it seems as if Teddy knew each time I
sneezed or wiped my ass. It wouldn't have been hard to get the information.
I wasn't hiding it. I was excited about coming and I talked to a lot of people
about it. Other hookers, johns, lots of people."

"Two nights ago you went to Teddy's cabin and the two of you fought. Why?"

Juan ran his fingers through his oily, slicked back hair and then, without thinking
about it, wiped his hand on the leg of his jeans. Spike shuddered.

"I didn't know he was on this cruise. I was in the disco having a great time,
drinking, dancing and working. I had a money man on the line and was about
to seal the deal when the damn little prick showed up and loudly announced that
I had given him an STD. I swear to God that's a lie! I'm clean! I always use
protection and I get checked."

Xander felt slightly distracted by the strong memories of the days when things
like that were an issue. It was uncomfortable and he wondered if it showed
on his face.

"So, what happened?"

"I was fucking shocked, that's what happened. I see the very pain in my ass
standing right in front of me. This trip cost me a lot of money and if I can't work
then I end up in the hole. And not in the good way. So I guess I snapped. I
called him a pathetic fucking stalker. I said he was a liar and a bitch. Then I
think I said he was the worst piece of ass I ever had and he couldn't pay me
enough to fuck him again. That must have been it because he slapped me. I
admit, by then I was furious and I had every intention of punching him in that
ugly little face but by then the bouncers stepped in and stopped us. They threw
me out and I stormed off. Then to make matters worse, the stupid fucker is
calling after me. He is shouting his room number and begging me to come and
talk to him. I didn't answer. I just left."

Xander had it all on paper. He wrote furiously, catching each detail that would
help put the picture into perspective.

"But you did go to see him later, didn't you?"

Juan hung his head and nodded.

"After I cooled down I was stupid enough to think I could reason with him.
Maybe if I apologized he would just leave me alone. As you know, it didn't
go as planned. There was just more of the same. Names, threats, lies,
promises. He begged, I refused, we both got mad and yelled."

"How did the lamp get broken?"

"He picked it up and threw it at me. Damn thing just missed my head by inches.
That's when I pushed him and walked out."

Finally, Spike stepped forward and spoke.

"Did you know he had cut himself on the broken glass?"

Juan shook his head violently.

"No! No, when I left him he was fine."

"Did you go back to see him again? Was that you in his cabin last night?"

This time Juan jumped to his feet and he stared imploringly between the two
detectives.

"No, I swear it wasn't me. I was in the gym last night. I didn't have a customer
till 2 AM so I was working out. There were other men in there that can vouch
for me. Call them! Ask them!"

Xander shoved a piece of paper and a pencil across the table and watched as
Juan furiously wrote down names and cabin numbers of witnesses he was
positive would speak for him. Looking up, Xander's eyes met Spike's and he saw
the uncertainty there.